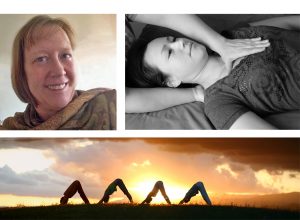 Janet Berryhill is a registered yoga teacher with the Yoga Alliance and a certified CranioSacral Therapist with the Heartwood Institute.  She has taught yoga since 1997, and done craniosacral therapy since 2005.
"In yoga, I create classes with a theme or idea for the week. An then when teaching different classes throughout the week, I tune into my students to decide how to adjust or modify what I am teaching so that people leave with a feeling of being complete, relaxed, and stretched out throughout their body.  I feel that my job as the teacher is to sequence poses so that people feel a balanced energy flow all through their body when they are finished.
In CranioSacral Therapy, my job is to listen to the client, and support their body in a way that it can release the tension that is creating a problem for them.  Often there are many area that are restricted and linked together in a way that creates pain and discomfort.  My job is to find those connections and help the body release them in a specific order that works for the unique imbalances that are there.
In the CranioSacral Therapy workshops, in addition to teaching the material, I like to make sure we do things to build community so that we have a comfortable, safe space to explore, learn, and enjoy being a beginner in a new bodywork modality."